Randy Orlando
(ランディ・オルランド), born as
Randolph Orlando
(ランドルフ・オルランド) and also known as the
Red Reaper
(
赤
い
死神
) and
Son of the War God
(
闘神
の
息子
), is an instructor at
Thors Military Academy - Branch Campus Leeves
and member of
Crossbell Police Department
's
Special Support Section.
Before that, he was stationed as a guard at the
Bellguard Gate
for the
Crossbell Guardian Force
. Randolph holds the
rank
of first lieutenant.
Background
Red Constellation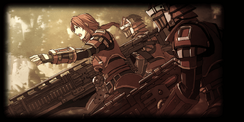 Randolph was born in S.1183, place unknown.
Raised from childhood as a part of the Red Constellation jaeger corps, he had a knife handed to him at the age of 4 and learned firearm marksmanship from the age of 6 onward.
At the age of 9, Randolph made his debut at the battlefield by serving as the scout of his father's squad. During said mission he ended up killing two opposing soldiers. At the age of 12 Randolph became the designated head of a jaeger platoon and two years later promoted into commanding a jaeger company.
Starting anew
Due to a traumatic realization of the bloodshed he was causing, Randolph fled from the Red Constellation and the world of jaegers and enlisted in the Crossbell Guardian Force by appealing to Sonya Baelz. In S.1204, at the age of 21, he was asked by Sonya to join the newly established Special Support Section.
Resistance
Following the Imperial annexation of Crossbell in S.1205, Randy returned to his former post at the Crossbell Guardian Force to prepare a resistance force until someone advised to him to go to Erebonia instead. Upon arriving in Erebonia, he starts serving as the Instructor of Class VIII at Thors Military Academy - Branch Campus Leeves in Erebonia. Randolph acts relatively freely with his position and duties.
He discovers that fellow instructor Rean Schwarzer fought his former S.S.S colleague Lloyd Bannings, which is a topic he brings up to him. As the instructor for battle tactics, Randolph tries to overcome the difficulties in his relationship with student Ash Carbide through practice battles.
Personality
Randolph is the cool older brother of the group. He tends to be laid-back and acts like a flirt, however, he hides a sad past behind him.
As a result of trauma sustained from realization of the bloodshed that he caused, he doesn't approve of the Red Constellation's ways and has a rocky relationship with his cousin and uncle.
He loves liquor.
Gameplay
Character Notes
ランドルフ・オルランド

Ⅷ組戦術科【担当:軍事学】
帝国軍・クロスベル方面隊から出向して来た気さくで余裕のある性格の男性教官。かつてクロスベル警察に所属していた。
これからは
互いの立場から壁を作っていた2人は一緒に飲み、語り合うことで距離を縮め、気安く「リィン」「ランディ」と呼び合う仲に。
約束のラム酒
守りたいものは違えども、志を同じくするリィンとランディは同僚以上の"ダチ"となった。
Crafts
Name
Effect
Cast Cost
Level
Power Smash
パワースマッシュ
Craft - Attack - Area (S) - Delay
Strikes opponent with great force, delaying their next turn.
20 CP
Initial
Salamander
サラマンダー
Craft - Attack - Line - Burn (80%)
A dragon-like wave of flames charges to incinerate enemies.
30 CP
Level 10
Crash Bomb
クラッシュボム
Craft - Attack (Set) - Area (L) - Blind (100%)
Throws a flash grenade with 100% chance to blind.
30 CP
Level 17
War Cry
ウォークライ
Craft - Support - Self - CP+60 - HP-30%
Strengthens spirit with a battle cry and trades HP for CP.
—
Level 24
Deadly Storm
デスストーム
Craft - Attack (Set) - Line - K.O. (60%)
Overwhelms enemies with a frenzied storm, bringing death.
30 CP
Level 33
Burning Rage
バーニングレイジ
Combo Craft (Lloyd & Randy) - Attack - Area (M)
Unloads a barrage of attacks from both sides.
100 CP
Story[note 1]
Burning Rage 2
バーニングレイジⅡ
Combo Craft (Lloyd & Randy) - Attack - Area (M)
Annihilates enemies with a raging barrage from both sides.
100 CP
Bonding[note 2]
Riot Star
ライアットスター
Combo Craft (Elie & Randy) - Attack - Area (L)
Stops enemies with a gun and a halberd strike like a meteor.
100 CP
Craft Book[note 3]
Haken Storm
ハーケンストーム
Combo Craft (Randy & Tio) - Attack - Area (L)
Inescapable surprise attack amplified by a time difference.
100 CP
Craft Book[note 4]
Crimson Gale
クリムゾンゲイル
S-Craft - Attack - Area (M) - Burn (100%)
Incinerates foes with a mighty whirlwind of flame.
100+ CP
Initial
Death Scorpion
デススコルピオン
S-Craft - Attack - Area (L)
Ferociously charge as the blood of the War God boils within.
100+ CP
Level 35
Burning Divider
バーンディバイド
Support Craft - Attack - Area (M) - Burn (100%)
Strikes the enemy formation with a burning stun halberd.
—
Story[note 5]
Gallery
References