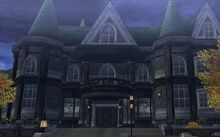 Hotel Esmeralda (ホテル・エスメラルダ) is a high-class hotel located on Central Plaza, Bareahard.
Background
The hotel is known for its policy is to give members of the nobility preferential treatment. Commoners will require an advanced booking or have the referral from a noble in order to book a room, making most of their guests nobles.
People
Staff
The hotel's staff consists of General Manager Richelieu, his assistant Enrique and housekeeper Tamia.
Guests
Baron Fafnir and his son Conan came from Heimdallr to Bareahard for business. They stay at Hotel Esmeralda during Trails of Cold Steel and again during Trails of Cold Steel II.
Ad blocker interference detected!
Wikia is a free-to-use site that makes money from advertising. We have a modified experience for viewers using ad blockers

Wikia is not accessible if you've made further modifications. Remove the custom ad blocker rule(s) and the page will load as expected.