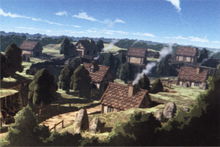 Hamel (ハーメル村), also known as Hemel in the localisation of the PSP version of Trails in the Sky FC, was a village located in the south of Erebonia, 120 selge near the border of Liberl.
Background
Hamel was initially a happy, lively village until it was completely destroyed and its inhabitants indiscriminately slaughtered by a group of Jaeger dropouts. The attack on the village was then used as a excuse for Erebonia to invade Liberl and became the cause for the Hundred Days War.
After the war, the true circumstances of the event later known as the Tragedy of Hamel was covered up by both the Liberlian and Erebonian governments. Any survivors of the event were then ordered by both governments to keep their mouths shut, lest they wanted to be punished.
Joshua Bright (then Joshua Astray) was one of the survivors of this event alongside Leonhardt. His sister, Karin Astray, was killed during the invasion while defending her brother from one of the jaegers.
While the ruins of the village are still around, the area has been desolate since the end of the war. The only thing that has been added is the grave that Leonhardt and Joshua had made for Karin.
Gallery
Ad blocker interference detected!
Wikia is a free-to-use site that makes money from advertising. We have a modified experience for viewers using ad blockers

Wikia is not accessible if you've made further modifications. Remove the custom ad blocker rule(s) and the page will load as expected.