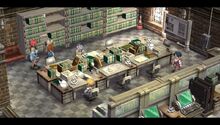 Crossbell News Service (クロスベル通信社) is a newspaper office located at the Waterfront Area, Crossbell City, responsible for publishing the Crossbell Times.
One of its prominent journalists, Grace Lynn, regularly exchanges information with the Special Support Section.
Staff
Reporter Grace Lynn
Editor-in-chief
Receptionist Tria
Reins, cameraman and a senior of Grace. He is a researcher working abroad for R&A Research. His twin brother lives in Ored.
Marcel Nielsen, a legendary journalist who won the Fulitzer Prize for his reports on the Hundred Days War. As a friend of Guy Bannings he has been investigating his death ever since.
Ad blocker interference detected!
Wikia is a free-to-use site that makes money from advertising. We have a modified experience for viewers using ad blockers

Wikia is not accessible if you've made further modifications. Remove the custom ad blocker rule(s) and the page will load as expected.